Are you promoting a Paid to Click site (or just about any other type of affiliate program or downline system on the net)?  You might want to consider setting up a blog or website.  Learn about some popular blog and web hosts here. (under construction)
Related advertisement from Site Build it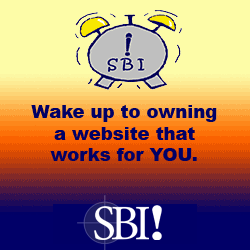 Overview -
So you have joined a paid to click site or similar affiliate program.  Now you need a way to promote it.  One good way to promote is to have your own website or ad enabled blog (with lots of traffic to it).  If you already have a website or blog, you probably don't need another one (unless if you want one more relevant to your niche or whatever it is you are promoting).  If you do not have a website or blog, no worries as you can learn how you can easily set up your own website or blog here.  I will divide this page into 3 parts: 1) Blog / web hosting services, 2) setting up a website, and 3) setting up a blog. 
Advantages of having a website or blog:
- Allows you to "brand yourself".  You might find that advertising your replicated site link directly can lead to low conversion rates.  Having a good website or blog that you can use to promote your business can help a lot.
- You can promote multiple sites at a time
- They are fairly easy to set up depending on how you set them up.
- Great for establishing a presence online. 
Disadvantages of having a website or blog:
- Usually costs money
- Ranking high on search engines (especially Google and Bing) will likely take time (especially if you are building site around a highly saturated niche).
- Can take time to build and promote
Part 1: Choosing a web or blog host.
Before you can set up a site, you will need a web or blog host. 
Free hosting vs Paid hosting.
Advantages of Free hosting:
Obviously there are free services you can use to set up a website or blog, such as setting up a squidoo lens on squidoo, hub page on hub pages, creating a blog on Google BlogSpot, creating a channel on Youtube, using myspace blogs, etc.
+ Easy to set up
+ Sites are free to maintain (no monthly or yearly fees)
+ Some services do allow you to host ads (such as Google Blogger)
Disadvantages and warnings of free hosting: 
- They do own the content you post. 
- Many free hosts do have restrictions on what you can post about.  For example, Wordpress.com does not allow you to host ads on your blogs and will suspend your account if you try (I've been there done that).  Other posts tend to be inconsistent in their policies about what you can or cannot post about.  Squidoo is an example of this since they have gotten somewhat picky about what you can post about (especially if you are using it for affiliate marketing related purposes) is known to shut down lenses they do not like (it has happened to me on 3 different occasions, including a lens I posted about Global Domains International, my "about me" lens, and a lens I had about my online business) and it usually happens without warning too (they never really explain what policies your lenses are breaking).  Even Google's services can have fuzzy policies.  While you can host ads on BlogSpot blogs and some people even post blogs about paid to click sites, Google does own the content you write and they can shut down blogs (usually labeled as "spam blogs") they do not like.  It has never happened to me before but I have seen this happen to people on various occasions (especially blogs on affiliate programs or ptc sites).  Even on Youtube, you never know when some jerk (probably some troll as youtube tends to have a trolling problem) is going to flag your video (even if it is not violating their terms) and cause it to be taken down. 
Other blog hosts I recommend:
1. Empower Network
2. Instant Blog Subscribers
3. Global Domains International
4. Host Gator
5. Wordpress.org
6. Iblog.at (comes through Viral Networks).
7. Site Built it
(more content coming soon).